Greetings from the President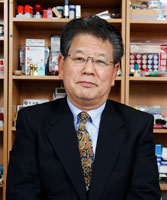 Welcome to visiting our home page. I am Ikuzo Mastushita,
the president of Taiyotomah Co.,Ltd.
In business since 1996, Taiyotomah Co.,Ltd. is the first original manufacturer of Flash machines and sold to China, USA,Europe,and Middle East.
We are a total manufacturer of stamps.we supply many kinds of the materials of stamps to cater all your needs.
We sell stamp ink pads,oil-based pigment ink,quick-drying pigment ink,
foam rubber for laser,pre-inked rubber for laser.
We use the latest technology available and pride ourselves on our production quality.
we will keep this spirit and continue it to contribute to people looking for the new technology in this field.